At Beaverfalls Waterworks District, our goal is to provide safe, clean, sparkling water to all of our residents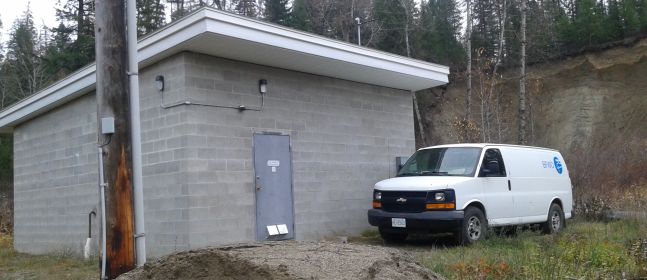 Beaver Falls Waterworks District (BFWD) is situated in the Beaver Valley it lies between the Village of Montrose BC and the Village of Fruitvale BC. The District was established on October 1st, 1959 by Letters Patent under the Water Act of British Columbia.
The District provides community water to an area of approximately 3.2 square kilometers with an estimated population of 500 people through 197 water connections.
The District is managed by a board of five trustees who serve a 3 year term. Each year, one trustee is elected for a three year term by the land owners at the annual general meeting held in April.
The Beaver Falls Waterworks District is an improvement district subject to supervision by the Ministry of Community, Sport and Cultural Development. Improvement districts are NOT governed by the BC Utilities Commission. They are responsible for the provision of one or more local services for the benefit of the residents of the community. Districts vary in size, and are usually located in rural area of the province where there is no alternative form of local governance available, suitable, or desirable for the community. They are similar in structure to a municipality but are more informal and only provide direct services such a waterworks, fire protection or street lighting. The service delivered by the BFWD is a community waterworks system.
There are many provincial and federal laws that apply to improvement districts such as the Drinking Water Protection Act, the Taxation(Rural Area) Act and the Freedom of Information and Protection of Privacy Act. The board of trustees, has all the powers necessary or useful to manage the districts services. These powers include regulation, taxation, the acquistion and disposal of property, borrowing, expropriation, the hiring of employees and the ability to enter into contracts. However, there are limitations to these powers and they do not extend beyond the boundary of the improvement district.
There are more than 200 improvement districts operating in BC. They are brought into existence by the provincial government through Cabinet Orders which authorize the passage of a document known a Letters Patent. The Letters Patent contains the name of the improvement district, its boundary and the services which it will provide to the residents within the boundary Improvement districts are administered by an elected board of trustees, one of whom has the additional duty of chair. Although improvement district is independent public corporations, they are also subject to supervision by the Ministry. All bylaws passed by the board of trustees must be registered with the Inspector of Municipalities.
District Boundaries and Service Area